Happy New Year, WRC! We had a great run last Sunday to kick off the new year. It looks like everyone is getting in gear for their spring training cycles!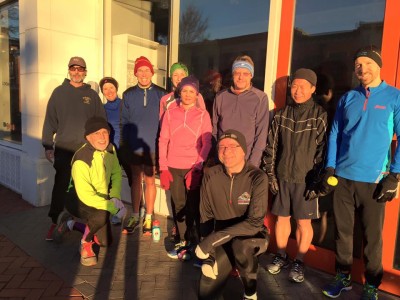 Sunday Distance Run for January 10, 2016
We'll meet at 8:00 a.m. in front of the CB2 store in Georgetown for our next Sunday Distance Run. We'll have three paces groups – 7:00/7:30, 8:00/8:30, 10:00/10:30 – running anywhere from 8-20 miles. Afterward, we'll meet at Dean and Deluca for coffee and carbs.
Annual Meeting and Brunch
It's hard to believe another year has passed since our last annual meeting.  This year, we'll hold the meeting following our Sunday Distance Run. Fear not – if you're injured, don't feel like running, can't make an early run, or just want to learn more about the group, you can join us at the meeting!
Here's the details so far:
What: Annual WRC Meeting and Brunch
When: Sunday, January 24, 11:15 a.m. (following the SDR)
Where: LOCATION TBD – stay tuned! It will be somewhere in Georgetown…
Cost: $5 – includes a full brunch at a fine Georgetown establishment
Attire: sweaty brunch is always acceptable with WRC, but regular clothes are fine, too (although we might not recognize you all dressed up!)
As a reminder, the beginning of the year is a great time to renew your membership to the club. Click here for more information about the club and here to join for the year!